2020 was very difficult for us. How was 2021?
25/01/2022
2022-01-27 15:21
It was, in short, a year of miracles for Dream.
---
What you will find in the article:
The three of us started it: Klaudia, Piotrek and me. Neither of us knew what to expect from this next pandemic year. 2020 was very difficult for us. We worked hard, but the global situation was not conducive to investments. In October, I was even considering taking some drastic steps. As a result, Dream would have disappeared from the map of Polish real estate agencies in Spain. Can you imagine the level of stress and frustration? In order not to get sick, I had to say to myself: "Enough. I did everything I could. We all did. If it doesn't work out, that's it, the world won't end." It turned out that clearing my mind was the best thing I could do back then because something started moving. Slowly and a little shy at the beginning and then...
Record sales
Last year, we achieved the highest sales volume in the history of Dream. The best result so far, the one from 2019, we improved almost 6 times! Our clients bought properties located along the whole Costa del Sol, from Málaga to Sotogrande. We also reached the Costa Blanca, where, in cooperation with our colleague, we sold to our clients a beautiful apartment in Benidorm.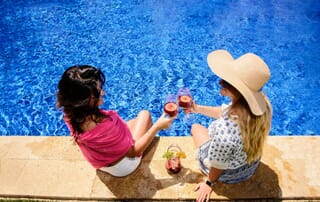 What type of real estate were our clients looking for in 2021?
Some opted for flats, others preferred villas. Some opted for "off plan": houses and apartments from the primary market, existing so far only as plans or being at various stages of construction. The primary market in Spain is very safe, that is why many people have decided to invest their money in this market. That's right, they'll have to wait, but they'll take the property new and with great potential for value growth.
Other customers, the more impatient ones, chose the resale market. We even had a gentleman who came with the assumption that he would buy one flat for rent on the secondary market and in fact, bought it, but "by the way" booked another apartment for himself – and it was already from the primary market.
In 2021, we also made the largest transaction in the company's history. Do you remember the project of 18 villas which Dream was very much involved in selling? I will come back to it in a moment, I have mentioned it now because our biggest transaction took place there: one client booked 2 villas, which prices amounted to almost EUR 7 million. I would also like to add that last year we sold a total of 3 villas there, thus implementing the plan that I set up for this project.
"Villas in Spain" project
When I came back from the project presentation over a year ago, I knew that we would get involved in selling it more than we used to do with other development projects (read more about this project).
Why? Because this project fascinated me. This time it wasn't about architecture – or at least not only about that. I was delighted with the developer's approach to the creation process. In its center stood future inhabitants of the house, their needs, comfort and safety. These priorities were covered with furniture, and the furniture – with walls. And this is how a real home was created. In a fantastic location and built with respect for the Andalusian nature.
A year and a few sales later, I am still delighted with this project. And it's not only me. In December, the 18 villas estate was announced the winner of the prestigious "European Property Awards" competition in two categories:
"The best residential project in Spain"
"The best multi-family architecture in Spain".
Hence, it is only a step to the "Best Development in Europe" award, which we keep our fingers crossed for.
By the way, our sales plan for this project for 2022 is exactly as it was last year. We plan to sell another 3 villas. And it is quite real, because we are already talking to two interested potential buyers. Maybe one of them will become the happy owner of a villa in the best residential project in Spain?
Record-breaking ranges
Our website recorded 71% more visits in 2021 than in 2020, 150% more than in 2019 and as much as 447% more than in 2018! Imagine that the number of new website users in 2021 was 502% higher than in 2018.
Over 2,000 people follow us on FB and over 1,000 on Instagram. In 2021, we published 110 posts on Facebook, and the most popular of them had 1,500-2,500 views.
You are also eager to read our blog. We are very happy about it, because we put a lot of work into its creation. We want it to be for you not only a source of information, but also a distraction when in the rest of Europe it is cold, dark and raining.
Dream Team
We ended 2021 in a wider group. First, in June, Agnieszka joined us and took care of short-term rentals. Then Kasia appeared in mid-August, supporting Klaudia and me in sales. Piotrek, our "Dream employee in exile," as he calls himself, came up 3.5 years ago with a marketing strategy that got us where we are now. By the way, he created a "social media monster". If someone had told me before Piotrek's arrival that I would sit at the computer every Sunday to tell you what was going on in Dream and that I would be doing it on FB, which I had never been attracted to before, I would have tapped my forehead.
With people such as Klaudia, Kasia, Aga and Piotrek, you can implement the craziest plans – not only sales ones. Thank you for being here. Klaudia and Piotrek, thank you especially for all these years together. There have been better and worse times, and you stood bravely at your post. Without you, there would be no Dream and I wouldn't be writing about miracles today.
I do not know what the year 2022 will bring us. From my point of view, it doesn't need to be better, it would be enough if it was like the last year. At this point, a quote from... "Faust" by J.W. Goethe came to my mind. (It turns out that the German philology left something in my head.) Faust once exclaimed: "Linger yet, you are so beautiful!" This is what I wish to Dream in the new year.