What is Andalusia famous for? A guide to a region full of contrasts
What is Andalusia like? What to expect from it? If you are planning a vacation or longer trip to the south of Spain, you are most probably thinking about it. Then get ready for the unforgettable emotions you will experience here, from the cultural life to the natural attractions to the culinary experience. Andalusia is a surprising, unpredictable region and – in a positive sense – full of contradictions, the discovery of which brings new waves of delight.
---
What you will find in the article:
Sea and mountains. History and modernity. Moorish architecture and Picasso painting. The culture of Islam and customs of Western Europe. Folklore of fiery flamenco and paso doble in the bullfight arena. Traditional recipes and non-obvious cuisine with Michelin stars. Crazy nightlife and a paradise for families with children. The idyllic atmosphere of small towns and the hustle and bustle of touristic resorts. You can keep going for a long time. In Andalusia, you can have it all at the same time, as its extremes intertwine at every step. No matter what your interests and expectations are, Andalusia will respond to them with interest. Your adventure is just beginning.
Where is Andalusia located?
Andalusia is the southernmost region in the Iberian Peninsula. It is bordered by Portugal to the west, the Spanish regions of Castilla-La Mancha and Extremadura to the north and Murcia to the east, and the English territory of Gibraltar to the south.
Thanks to frequent flights, Andalusia is very well connected with the rest of Europe, as well as with Morocco, which can also be reached thanks to numerous ferry connections. It is just 14 km from the North African coast of the Strait of Gibraltar.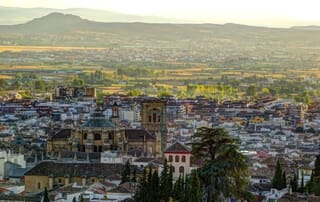 Andalusian coast
The coast of southern Spain is world famous. Andalusia receives around 30 million tourists a year. Such a great interest in the region is influenced by its geographical location, and hence: rocky or sandy beaches stretching for long kilometers of the coastline, which is surrounded by the waters of the Mediterranean Sea (on the eastern side) and the Atlantic Ocean (on the western side).
Costa de Almeria – approx. 200-kilometer stretch of the coast adjacent to the province of Almeria, the most diverse in terms of landscape, characterized by wonderful beaches and coves.
Costa Tropical – approx. 75 km long section along the coast of the Granada province, the least developed, populated and commercialized, characterized by many wild beaches.
Costa del Sol – the most popular part of the Spanish coast, stretching from Cape Cabo de Gata to Gibraltar, with 140 beaches, 400 km of its length is occupied by resorts with a well-developed tourist base.
Costa de la Luz – a section of the Atlantic coast from Gibraltar to the border with Portugal, retaining its natural character, an area largely under ecological protection.
What's the weather like in Andalusia?
Andalusia is the warmest region in all of Europe. The best times to travel and visit the cities of Andalusia and their attractions are in the months of March to May and September to October. Outside the holiday season, there are fewer tourists here, and there is no crazy heat, but the peninsula is still warm and sunny.
What is the history of Andalusia?
Andalusia is famous for its great multicultural heritage, mainly because it was dependent on the Arab civilization in the past. Today it is an autonomous community of Spain, but for centuries it was part of the Kingdom of the Moors. Although its last stronghold in Europe – Granada – was surrendered by it in the 15th century, many remnants of Arab domination have stood the test of time. And today we can walk around the most beautiful Andalusian cities, among the monuments of Moorish architecture, feeling the breeze of history at every step.
What are the most popular destinations in Andalusia?
Each town, city and resort in Andalusia has its own charm and character. You can decide which will suit you and your travel style best.
1. Seville
The capital of Andalusia, a stunning city full of monuments with a UNESCO World Heritage Cathedral – the third largest in the world.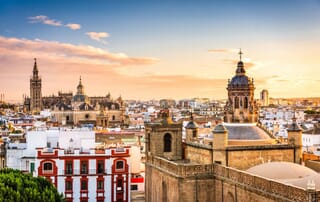 2. Cordoba
A spectacular city with charming cobbled streets and inner courtyards, full of monuments that give an insight into the history of both the city and the entire region.
3. Granada
Mainly associated with Arab influences, it is famous for its combination of old and new architecture. It boasts, among others: the Alhambra palace complex, Arab baths, e.g. the oldest in Spain from the 11th century in El Bañuelo, the Generalife gardens and the cathedral.
4. Cadiz
The capital of the Costa de la Luz, a quiet city, often overlooked in favor of more famous ones such as Seville and Marbella. Located on the Atlantic Ocean, it is a great place to try delicious seafood dishes.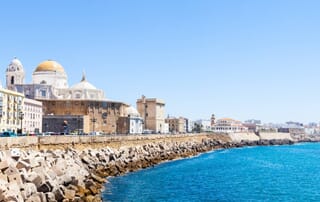 5. Jerez de la Frontera
A city off the main tourist route, thoroughly steeped in traditional horse culture, fiery flamenco and sherry production.
6. Ronda
A historic city worth visiting, especially to see its unique layout on both sides of the El Tajo gorge in the Sierra de las Nieves National Park. Ronda is also known to be the city where modern bullfighting was invented.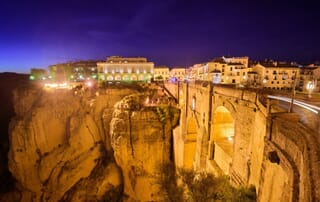 7. Málaga
While many people think of Málaga as a holiday city with skyscrapers and nightclubs, the main historic center of the city offers a wealth of culture, examples of interesting architecture and a new art scene. It is also a popular place for gourmets, with fairs offering fresh produce and tapas bars.
8. Marbella
One of the most famous cities in Andalusia. It's the Spanish answer to French Saint-Tropez – it offers a whole host of stylish hotels, upscale restaurants and fancy boutiques. Marbella, however, also has a slightly less flashy side including the picturesque Casco Antiguo, which is the old part of the city with its whitewashed narrow, winding streets.

9. Jaen
A city full of history and culture with extensive olive groves on the outskirts and architectural gems in the center. Centered around the Santa Catalina Castle, which is on the main hill of the city, with winding streets and traditional houses winding down the hillside.
10. Nerja
An old fishing village, thanks to its location on the edge of the Costa del Sol, not as popular as the larger resorts. It is known primarily for its beautiful caves, many of which are open to the public.
11. Tarifa
Situated at the southern tip of Spain, it is the meeting point of the Atlantic and Mediterranean seas. The climate here brings strong ocean winds, which makes it perfect for water sports and makes it a popular destination for surfers, windsurfers and kitesurfers, as well as a good spot for whale and bird watching. Due to the proximity, North African influence is visible throughout the city.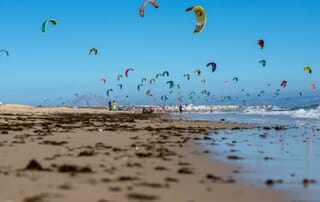 12. Almeria
The easternmost city of Andalusia. Although it has gained much more popularity in recent years, it is still a quieter place than other places on the Costa del Sol, for example.
Pueblos blancos - white villages
The hallmark of Andalusia are also white villages. Why "white"? Their name comes from the predominant color of the buildings, which are painted white to reflect heat. The Andalusian pueblos blancos are usually situated in mountainous areas surrounded by forests. Good examples are the already mentioned Ronda, Mijas, Benalmádena, Setenil de las Bodegas, Grazalema, Arcos de la Frontera or Zahara de la Sierra.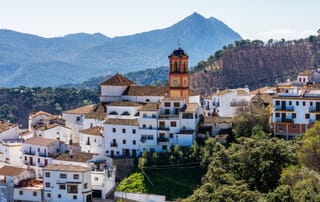 Festivals in Andalusia
The regional, intimate atmosphere of Andalusian towns and cities is emphasized by numerous events uniting local communities. Each year, Andalusia celebrates several hundred fiestas, the most famous in all of Spain. Fairs, pilgrimages, carnivals, mock battles between Moors and Christians or processions, autumn harvesting of olives, grapes or mushrooms, days of saints - patrons of cities or annual city holidays are occasions to celebrate with sherry and dancing.
Andalusia – the mother of flamenco
Swirling dance and music filled with emotions are an integral part of Andalusian folklore. After all, flamenco was born here – a real cultural phenomenon that is practiced with passion every day. In most towns and cities, in local bars and pubs, you can become part of an unforgettable, spontaneous show – an observer of a show of professional dancers or a participant in a spontaneous gust of heart.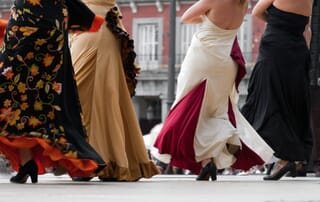 The delicacies of Andalusia
Andalusia is also famous for its unique cuisine. It is based on centuries-old recipes, the lion's share of which have Arabic origins. Hence the flavors and smells previously unknown to Europeans. It is also the region with the most restaurants in Spain that boast of Michelin stars. But how not to be in the top league with all those fresh fish and seafood, locally grown fruit and vegetables, and extra virgin olive oil?
Check what to order when visiting Andalusia:
Gazpacho – the most famous Spanish soup from Andalusia, which has become a national dish. It is a cold soup made of tomatoes and cucumbers with the addition of olive oil and garlic.
Salmorejo – a more substantial version of the gazpacho from Cordoba, served with slices of ham and boiled eggs.
Flamenquin – a slice of ham and cheese wrapped in pork fillet and deep-fried.
Pescaito frito – a plate of fried seafood, seasoned with lemon juice, popular especially in Málaga and the entire Costa del Sol.
Jamón – dry-cured pork leg – a classic combination is jamón with melon, which can be found in almost all restaurants.
Tapas – an appetizer for wine or beer in Andalusia is tapas. Tapas can often be eaten for free in reputable bars – as long as you order a glass of wine ☺
Sangria – the perfect wine drink with pieces of fruit for hot summer days.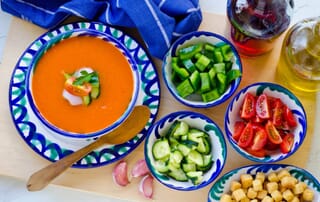 National and natural parks of Andalusia
About 20% of the territory of Andalusia is a protected area – that's as many as 150 different types of protected areas. Among them there are three national parks:
Sierra Nevada (Granada, Almeria) – the largest national park in all of Spain, with a protected Mediterranean mountain landscape and the highest peak of the Iberian Peninsula;
Doñana (Huelva, Seville) – rich in fauna and predominantly wetlands;
Sierra de las Nieves (Malaga) – a mountain landscape covered with forests of ancient Spanish firs, one of the few places in southern Spain where you can see snow.
If you want to experience Andalusia in its natural, wild version, you can also visit many unspoiled nature parks with forests, waterfalls and picnic areas, including:
Cabo de Gata – a natural park, a geological natural gem with a western, desert character
Montes de Malaga – a gentle mountain range interspersed with shallow valleys
Fuente de Piedra – a nature reserve with a lake famous for flamingos
Sierra de Cazorla, Segura and Las Villas – mountain scenery and lots of wild nature
Despeñaperros – wonderful waterfalls
Spain is famous for its diverse landscapes, excellent cuisine, unique culture and great weather all year round. And Andalusia? Certainly, it does not differ from that, but in every aspect it stands out from other regions. Some just want to relax and soak up the sun. It is not surprising because the conditions are perfect here. But if you're also looking for nature adventures, sporting challenges, fascinating history and rich culture, you've come to the right place.