Marbella - what to see here when coming for a weekend, a week or ... for life
Marbella is one of those places in the world that, for some reason, arouse a lot of emotions among them. It has its loyal fans and those who think it is highly overrated and "turns its nose".
---
What you will find in the article:
From the perspective of 13 years in this city, I definitely belong to the first group. I will tell you what I like in Marbella and what is worth seeing here when coming for a weekend, a week or... for life. In this post, you will learn about Puerto Banús, nightlife in Marbella and the beach I love, among others. You will also read about the fish restaurants on the beach called "chiringuitos", find out why the Costa del Sol is Costa del Golf for some, take a walk with me in the Old Town of Marbella and I hope you will get carried away by the spirit of flamenco.
Marbella - sun, sea, microclimate
Costa del Sol is known for its wonderful climate: warm and sunny "winters" are appreciated above all by the inhabitants of northern Europe, who often come here in October and stay until April, after which they return to their countries for the rest of the year, because in summer it gets too hot for them. Portals advertising "The Sun Coast", because that is the translation of the name Costa del Sol, boast 320 days of sunshine a year. I have never counted them but if I ever get down to it, I will count the rainy and cloudy ones – it will be definitely less counting.
Marbella, due to its location at the foot of the La Concha mountain which surrounds the city with rocky arms and protects it from rapid weather changes, also enjoys a specific microclimate that has a healing effect on many different diseases.
---
Interesting fact:
Do you know what the name "Marbella" means? This word comes from pre-Romanesque times and was created from the combination of the words MA + AR = MAR, which means "a lot of water" and the words BILA / BILLA with the meaning "mountain". If you look at photos of Marbella taken by drones or from the sea, you will see exactly this: a mountain and a lot of water.
---

Marbella is a lifestyle (until one would like to write "state of mind")
There is something in this city that makes people more cheerful, open, smile more often and speak to a completely stranger on the street, never knowing in which language the answer will come. And this is because on this relatively short stretch of the Spanish coast, which is the Costa del Sol, live in full symbiosis about 150 nationalities. And it doesn't bother anyone, just the opposite: we draw from this diversity, broaden our horizons and open ourselves to others. In our today's divided and intolerant world places like the Costa del Sol bring back faith that it can still be normal.
There's some slack in Marbella. Despite its celebrity history and attraction to big names and luxury, this city does not intimidate, does not make us put on masks and pretend that we are someone else, better, wiser, richer etc. I often hear this opinion from people who live in other places called "Jet-set Spots". Here in Marbella they still feel the luxury they like and at the same time they feel free and can just be themselves.

Puerto Banús - Marbella's unique yacht port
Speaking of luxury, let's visit Puerto Banús. This harbor is today synonymous with luxury but many prestigious guests of Puerto Banús do not know that it was originally a small fishing village. That was until 1963 when José Banús, a successful developer from Madrid, began to realize his vision there, including the construction of the district which he called Nueva Andalucía. This district was to be a place to live for ordinary people, not just noble wealthy families and celebrities who were already visiting Marbella at that time.
However, José Banús's vision went much further. He decided to create a luxury yacht port that would strengthen Marbella's position as an international resort. In 1970, José Banús and architect Noldi Schreck, who, by the way, participated in the design and construction of Beverly Hills, created a design for one of the most exclusive harbours in Europe, implemented on a scale never seen before - Puerto Banús built in 1970 remains one of the largest yacht ports in the Mediterranean.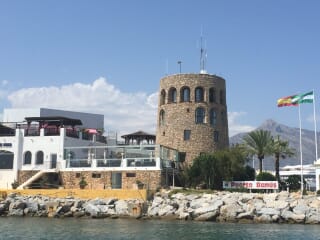 Puerto Banus - the luxury center of Spain
From the very beginning Puerto Banús met with a spectacular reception: 1,700 guests attended the ceremonial opening, served by 300 waiters. Among the guests were: director Roman Polański, owner of Playboy Hugh Heffner, doctor Christian Barnard, a pioneer in heart transplantation operations as well as Prince Rainier and Princess Grace from Monaco. The star of the evening was at that time 27-year-old Julio Iglesias, whose performance was awarded a considerable sum of 125,000 pesetas.
---
Interesting fact:
Today, the largest number of yachts, sports cars and boutiques of exclusive companies in Spain is concentrated in Puerto Banús. This is the second place in Spain in terms of sales of luxury products, in addition, here you will find the most prestigious restaurants, bars and night clubs.
---

Nightlife in Marbella
The so-called "nightlife" is another attraction of Marbella. In the summer the city attracts party people from all around the world. During the day, they hang out in bars and beautiful swimming pools of beach clubs, which are abundant on the Costa del Sol. The most famous are Nikki Beach, Ocean Club, La Sala Beach and Puro Beach. In the evenings, there are numerous nightclubs waiting for them and parties last until dawn. Straight from the club you can go to take a shower and have breakfast at your hotel and then lay out on a comfortable bed in another beach club, or ... do not leave the club at all and stay for "after party" which often ends around lunch. This is of course a version for exceptionally tough guys, ordinary people instead must sleep sometimes - even on a sun bed on the beach.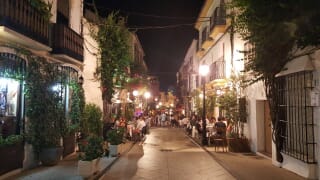 Beaches in Marbella
Spanish beaches - you could write about them indefinitely, because the Spanish coast is very long and extremely diverse. There is everything here: from the white sand of the Atlantic beaches to the Caribbean-like illusion, to the rocky, volcanic beaches of Tenerife captivating with their beauty. The beaches of the Costa del Sol are mostly sandy, bright, although not as white as the beaches of the Baltic Sea. There are several famous beaches in Marbella worth visiting: Playa de Bajadilla, Playa de Venus, Playa de Levante, Playa de Mistral, Playa de Cable, Playa de Elviria - just to name a few. On each of them you can do all kinds of water sports or just lie down and read a good book.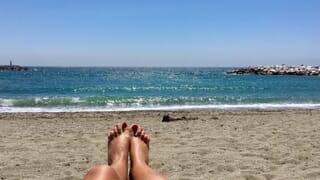 Puerto Cabopino and the 180-kilometer seaside promenade
For me, the most beautiful beach in Marbella is the beach in Puerto de Cabopino - the port itself is also worth attention: tiny, compact, very picturesque. From the beach, you can go for a walk on the dunes (Dunas de Artola). You will walk on wooden footbridges that form part of a very interesting project implemented in the province of Malaga, called "La Senda Litoral". It is a seaside passage / promenade, which after the end of the project is to allow a stroll from Manilva to Nerja. The distance between these towns is "only"... 180 km - and this is what the length of La Senda Litoral is to be. Today, the project is completed in about 80%.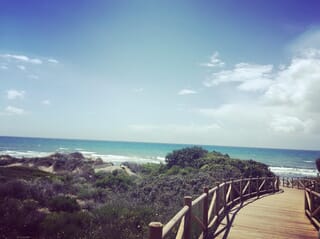 Marbella - beach restaurants
If you go on a trip to La Senda Litoral and get hungry, you can come to the nearest "chiringuito", which is a fish restaurant on the beach. There are plenty of them on the Costa del Sol and you will eat good fresh fish in all of them. I will give you the names of a few of my favorites:
Los Espigones,
Mistral Beach,
Andy's Beach,
Aurora Beach,
Sirocco Beach,
Taberna del Alabadero,
Macaao Beach,
El Ancla,
Los Sardinales.
Order gambas al pil pil, boquerones al vinagre, lubina a la plancha and calamar a la plancha. And don't forget about tinto de verano - it's the favorite summer drink of the Spaniards, red wine mixed with Casera, a kind of local orangeade. If you don't like such inventions, order a good old sangria. Bon Appetit!
Marbella golf courses
When writing about Marbella, it is impossible not to mention golf. It is not without reason that Costa del Sol is also called Costa del Golf. The number of golf courses in this relatively small area testifies to the popularity of this sport among Europeans, because it is, except for the south of Portugal, the only place in Europe where the climate allows you to play golf also in the winter. Nueva Andalucia, which I mentioned in the first part of the entry, from "a place to live for ordinary people", has become a Mecca for golfers. The Golf Valley located here has the most-known golf courses in Europe:
La Quinta,
Los Naranjos,
Las Brisas,
Aloha Golf.
In Marbella we also have: Santa Clara Golf, Rio Real Golf, which ends ... on the beach, Marbella Golf Club, Cabopino Golf and many others. We have a total of 21 golf courses on the Costa del Sol, and there are over 100 of them in Andalusia!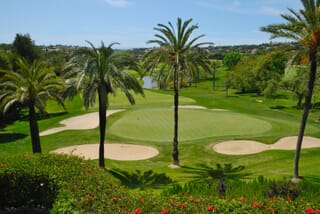 If not golf then what?
In addition to water sports and golf, on the Costa del Sol you can go on great trekking routes, climb La Concha, the already mentioned "guardian" of Marbella (I recommend, the views are unforgettable!), ride bikes, play tennis, go horse riding or just sit down in some shady park and nourish your senses with lush greenery and the murmur of the nearest fountain.
Go to Parque Alameda in Marbella. And be sure to pay attention to where you sit. In addition to the beautiful, illuminated fountain Fuente de la Virgen del Rocio, Parque Alameda is known for its benches lined with traditional Andalusian, hand-painted tiles: each bench is different and each tells a story. Take a look at them and choose the one whose story will be closest to you.
---
Interesting fact:
La Concha rises to 1216 m a.s.l. and is an ideal destination for lovers of trekking or just wanting a break from sunbathing.
---
A date with the Cosmic Elephant
From Parque Alameda, take a walk to the beach. It is a short walk during which you will touch great art. Literally, because the sculptures of Salvadore Dali stand on the Avenida del Mar square leading from Parque Alameda to the sea, in the open air, without any shields separating them from walkers. You can take a picture with them, touch, chat with Don Quijote (you know, the guy from La Mancha). There are even those willing to ride on the Cosmic Elephant or those who apparently embarrassed by her nakedness, dress Gala in ... a school uniform. Housekeeping naturally intervenes, but human ingenuity knows no bounds (especially after a large amount of good Spanish wine).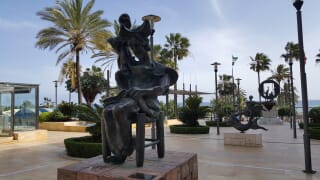 From Avenida del Mar you will go down the stairs to Paseo Maritimo, the seaside promenade. Restaurants, bars and souvenir shops reign here. You can buy a bikini, sunscreen, sunglasses, flip-flops, beach dresses, hats and towels (necessarily with the inscription "Marbella" or a bull, or both), which is everything necessary for a full-length sunbathing. You can go along the promenade towards Puerto Deportivo de Marbella. If you had a lack of yachts after visiting Puerto Banús, there you will find dozens of other vessels, perhaps not so large and luxurious, but equally picturesque. Puerto Deportivo is also a basin of bars serving delicious drinks.
Casco Antiguo or the secrets of the Old Town
Marbella is not just beaches, golf and endless events. It is a city that has grown from a small fishing village with diverse history into an international resort. The richness of this history is best seen in Casco Antiguo, i.e. in the Old Town. Arabian defensive walls, Christian churches, narrow streets, fountains and lots of flowers. The famous Easter week processions (Semana Santa) also begin here. The scent of orange rises over the Old Town in spring. It comes from the main square, called Plaza de Los Naranjos, or Orange Square. There, next to several restaurants serving very tasty Spanish cuisine, there is also the Town Hall and the city hall of Marbella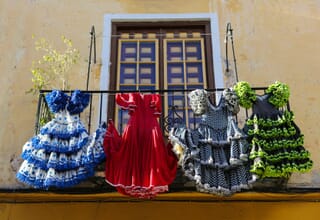 El Duende, the spirit of flamenco/h2>
From Plaza de Los Naranjos it is very close to Tablao de Ana Maria, a strange place where time has stopped. "Tablao" in Andalusia means a place where flamenco is sung and danced. Ana Maria is an age-old today, once very popular flamenco dancer, whose shows were watched by the Spanish kings and lots of not only Spanish stars. Doña Ana Maria cares about the level of performances that her band serves to the viewers every evening. There is no kitsch typical of similar performances played in hotels or restaurants. At Tablao de Ana Maria there are real emotions of real people. I can't count how many times I've been there and I've never left disappointed or bored. Each spectacle is unique. It is worth reserving a seat at a lame table covered with a dotted tablecloth, order a glass of wine and let yourself be carried away by the wave of emotions rolling right next to you. It doesn't matter that you don't speak Spanish. The faces of singers and dancers will tell you everything. You will stomp on coming back, maybe even sing something, and the happy El Duende will show you to the hotel.
---
Interesting fact:
"Tablao" in Andalusia means a place where flamenco is sung and danced.
---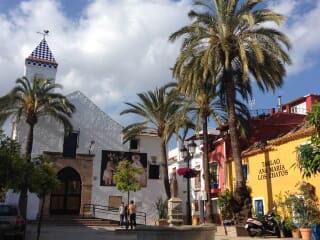 Bienvenidos a Marbella!