Karl Lagerfeld, Elie Saab, Dolce Gabbana and... real estate in Marbella
Luxury fashion brands now want something more than just creating and selling clothes and accessories. They started entering the real estate market and do it with a bang. Since they know, where their customers willingly and often travel or permanently live, it's easy for them to choose the right, prestigious locations. Marbella has been one of these places since many years.
---
Now, in addition to the shops of designers Karl Lagerfeld, Elie Saab and Dolce Gabbana, you can also visit elegant properties designed by them. Not only that, you can also buy them – of course, this is an offer for investors with very thick wallets.
Karl Lagerfeld and 5 exclusive homes on the Golden Mile in Marbella
"What I love best in life is new starts" said Karl Lagerfeld and if all his new beginnings came out like entering the real estate market in Marbella, then we admire and congratulate. First of the five villas designed by KL was sold off plan for nearly EUR 15 million.
This project stems from Karl Lagerfeld's passion for architecture, interior design and constantly pushing the boundaries of innovation. Five exclusive homes blend perfectly into the beautiful natural surroundings of Marbella's Golden Mile. The plot is strategically located between the mountains and the breathtaking Mediterranean coast.
Natural building materials allow spaces to seamlessly connect with the surroundings, blurring the boundaries between the interiors and their decoration, and the exteriors of houses. Each villa will have a private pool and garden, spa, cinema room and spacious bedrooms, with details that reflect KL's signature aesthetic.
The villas are designed to have a minimal impact on the environment. They will be equipped with solar panels, rainwater recovery tanks and automation systems controlling energy consumption.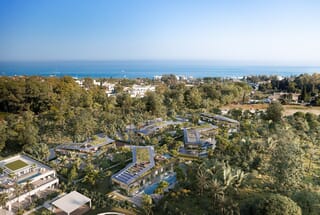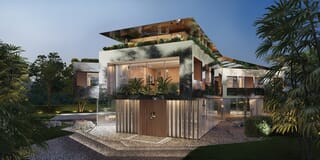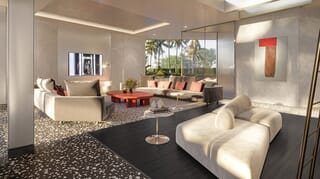 Elie Saab and 5 unique villas in the exclusive Sierra Blanca area of Marbella
This Lebanese fashion designer started his business in the early 1980s and specialised in bridal fashion. Characteristic for his projects are expensive fabrics, lace, precious stones, Swarovski crystals, pearls, rich embroidery. This oriental flair can also be seen in his designs and interior furnishings refined in every detail.
---
Fun fact!
Not only luxury fashion brands are entering the real estate market on the Costa del Sol. They were joined by an Italian top-shelf car brand. A Lamborghini villa estate will be built in Benahavis.
---
5 unique ES villas are being built in the exclusive Sierra Blanca district, one of the most prestigious addresses in Marbella, just 1.5 km from the city center. The location of the plot at the foot of the Sierra Blanca mountain range and close to the legendary symbol of Marbella, the La Concha mountain, will provide residents with privacy and beautiful views of the sea and mountains.
These spectacular, modern houses surrounded by protected nature and other elegant villas will become an enclave of peace and luxury. Floor-to-ceiling windows and sliding glass doors will lead to sunny terraces. Such a terrace is the perfect place to feel what the Mediterranean lifestyle means: excellent food served outdoors, good wine and peace of mind... .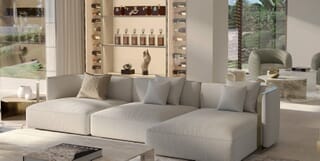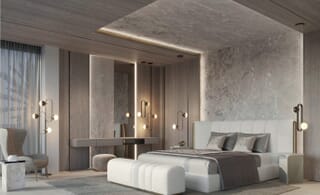 Dolce & Gabbana and 60 exclusive apartments in Marbella
This Italian luxury fashion company has chosen Marbella to make the leap into the most exclusive real estate sector. The company has announced that it will build three large complexes in different parts of the world, and one of them will be built here.
In Marbella, the Italian brand will build 60 apartments of various types, distributed in five buildings, the height of which will not exceed four or five floors. The luxury complex will be located on the famous Golden Mile, a short drive from the exclusive hotels Puente Romano Resort, Nobu and Marbella Club. Just 800 meters away is one of the best beaches on the coast, with beach clubs and restaurants nearby. The investment will occupy an area of almost 90,000 square meters. There will also be commercial, restaurant and artistic premises.
The plan, according to Spanish media, is to create a district in Marbella that specialises in luxury homes associated with international fashion brands.