3 investments on the Costa del Sol at prices below EUR 500,000
We present to you three projects in different locations on the Costa del Sol. Each of these towns is attractive both in terms of investment and permanent residence. And in each of these projects you will find apartments for up to EUR 500,000.
---
Modern and functional apartments in the beautifully developing Estepona (prices from 250.000 €)
Estepona is famous for its impressive beaches, including the picturesque Bahia Dorada. The city's beauty, cultural attractions and rich culinary offer have made
Estepona a favourite destination for many visitors to the Sun Coast in recent years. Estepona is also a paradise for golf lovers, as it is home to many of the first-class golf courses on the Costa del Sol.
If you belong to them, this estate may be of interest to you. It has been designed to provide residents with a comfortable lifestyle in a peaceful and quiet environment.
The apartments are modern and functional, equipped with high-quality household appliances, air conditioning and underfloor heating. Beautiful views and a privileged location close to the best golf courses in the area make it an ideal place for those interested in investing in the tourism industry.
Common areas include an outdoor swimming pool, beautiful landscaped gardens and a fully equipped gym.
The estate's strategic location with easy access to all the amenities that Estepona offers make it a good investment opportunity.
Prices for 2-bedroom properties start at €250,000.
Find out more about these apartments in Estepona
Important
The cheapest apartments in development projects usually sell the fastest. This means that if you are planning to buy a property on the primary market, act quickly, because it will not be cheaper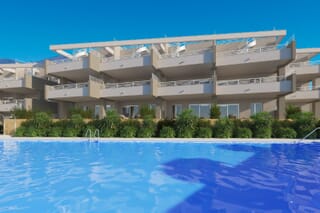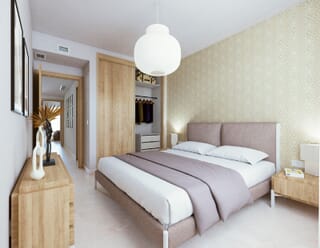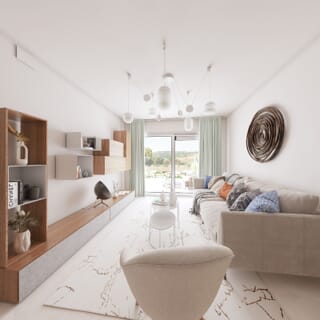 Apartments with sea views in beautiful Benalmádena (prices from €310,080)
A boutique estate of 35 apartments and penthouses with 2, 3 and 4 bedrooms is being built here. Thanks to the location of the plot on a hill, all apartments will have panoramic views of the Mediterranean Sea and the surrounding coast, and the terraced buildings of the estate will provide beautiful interior lighting.
The common areas of the estate are the implementation of the "slow living" concept. Maximum comfort and relaxation have been taken care of. The inhabitants of this place are supposed to get a chance to slow down the pace of life and relax.
Benalmádena is one of our favourite places on the coast. A wide range of landscapes from the sea to the mountains, 9 kilometers of coastline, 17 beaches and a beautiful old town where time has stood still. Benalmádena is also an international center for sailing and recreation.
It is worth mentioning that communication to the airport in Malaga and Malaga centre is extremely easy, because there is a cable car on the Málaga - Fuengirola section, and the journey from the airport to Benalmadena takes several minutes.

Prices for 3 bedroom apartments start from €310,080
Prices for 4 bedroom apartments start from €399,820
Find out more about these apartments in Benalmádena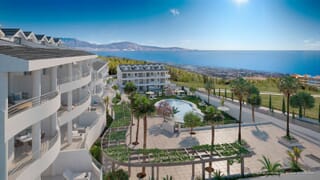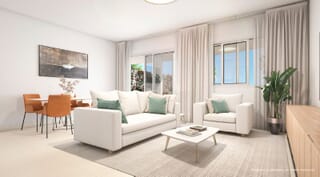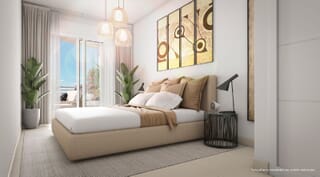 Spacious apartments with large terraces in Marbella (prices from €395,000)
In the eastern part of Marbella, an innovative concept is being built, thanks to which this minimalist project blends perfectly with the surrounding landscape.
The estate will consist of 96 apartments with 2 or 3 bedrooms. Spacious apartments with large terraces with wonderful views of the Mediterranean Sea will be built here. Ground-floor apartments will have small gardens and penthouse apartments will have the option of installing small swimming pools.
In this unique place, you will feel like in paradise. In the common areas of the estate, you will be able to use 3 outdoor swimming pools, a nearby pool bar, an additional indoor swimming pool and a SPA with a Turkish bath, two fully equipped gyms and a co-working zone. The picture will be complemented by gardens full of lush vegetation and colorful flowers.
The estate is in a beautiful area, just 5 minutes by car from the historic center of Marbella, close to the beach, the Río Real golf course and the surrounding leisure facilities.
The apartments include storage rooms and parking spaces in the underground garage.
Prices for 2-bedroom apartments start at €395,000
Prices for 3-bedroom apartments start at €495,000
Find out more about these apartments in Marbella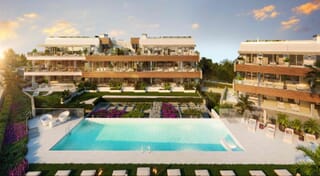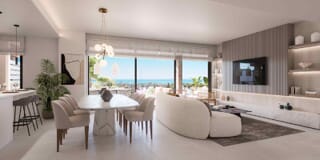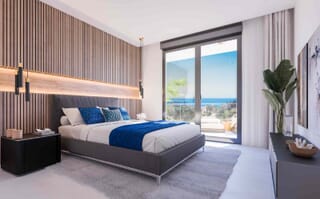 Kindly note that the prices of the projects described above start below EUR 500,000. This does not mean that all available apartments fall within this price range.