Get to know Puerto Banús, or Costa del Sol in its most luxurious version
Over 900 berths and all occupied by horrendously expensive yachts, catamarans and motor boats worth millions. Their price per night in the port is even a staggering 2,000 euros. This is the standard of Puerto Banús, one of the most popular yacht swimming pools in Europe, known for its luxury and splendor, which hosts over 5 million tourists every year. Here are 7 reasons to visit this unique place on the map of Spain.
---
1. Location of Puerto Banús
The exclusive marina in Marbella – Puerto Banús, built in the 1970s by the developer José Banús and named after him, officially opened in 1970, is located on the Spanish Costa del Sol on the Mediterranean Sea. However, it is not a marina like many. The marina, which still has the quaint character of an Andalusian fishing village and a luxury shopping complex rolled into one, has quickly become a coveted travel destination for millionaires, celebrities and artists, and a favorite vacation spot. Nowadays, Puerto Banús is like a small town in the much bigger city of Marbella that lives its life and never sleeps.
What heats the already hot atmosphere of the Puerto Banús is not only the constantly high air temperature. It is also a lot of money, which can be seen with the naked eye at every step: expensive cars, luxury real estate, the most exclusive boutiques and jewelry stores, the best restaurants, the most elegant hotels, top-shelf art and exciting nightlife – all these create a prestigious image of this place. The fact that on the promenade or in cocktail bars you can meet the rich and famous from the front pages of newspapers also adds flavor.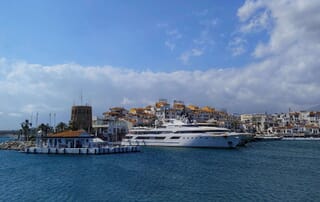 2. Shopping in Puerto Banús
No wonder Puerto Banus is such a popular tourist attraction in Andalusia, full of tourists willing to spend their money here. According to the Spanish tourism school Ostelea, foreign tourists who shop in Puerto Banús in Marbella spend an average of 994 euros each, second only to tourists in the Barrio de Salamanca, the most exclusive area of ​​Madrid, who spend 1011 euros.
Luxury stores and fashionable boutiques of famous designers located along the promenade are responsible for this result: Dior, Hermes, Versace, Burberry, Luis Vuitton, Prada, Gucci, Manuel Spinosa – these are just some of the brands that attract everyone with a wealthy wallet like a magnet.
In the heart of Antonio Banderas Square, there is also El Corte Ingles, a shopping center belonging to the largest chain of this type in Spain. At El Corte Ingles you can buy basically anything – from high-end food products, through gourmet products, branded clothing, footwear and interior furnishings.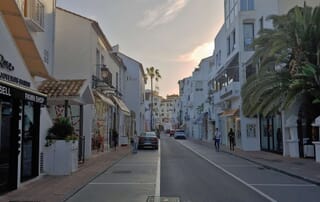 3. Arts and Culture in Puerto Banús
Marina Puerto Banús is not only a vanity market, however. You can come face to face with big art here as it is home to several famous art galleries.
The famous statue of La Victoria is located on Avenida de Julio Iglesias. In turn, on one of the roundabouts there is a statue of Rinoceronte Vestido Con Puntillas, an over three-ton rhinoceros dressed in lace, which was made by the famous painter Salvador Dali and placed there in 2004. The artist designed the sculpture after his film "La Aventura Prodigiosa de la Encajera y el Rinoceronte", which premiered in 1954 and two years later became the inspiration for the sculpture.
In addition, just as Los Angeles has its Hollywood Walk of Fame, Puerto Banús Marbella has a boulevard dedicated to famous people who have helped promote this place as one of the most stylish cities in the world. Paseo de la Fama presents great names from the world of business, culture and sports: Miguel Ángel Jiménez, Julio Iglesias, Monserrat Caballé and Cayetana Fitz-James Stuart, Duchess of Alba.
4. Puerto Banús marina
Strolling around Puerto Banús, it's hard to believe that this Spanish Saint Tropez could just be a skyscraper district. This was the idea initially thought of by Jose Banús. Later, his idea evolved into a tourist complex, the hallmark of which is, of course, a luxurious marina. Nowadays, this place is one of Marbella's attractions, perfect for a relaxing stroll, basking in the wonderful Spanish sun and admiring the many beautiful and impressive boats worth millions of euros. There are also many restaurants where you can taste the food that Andalusia is famous for.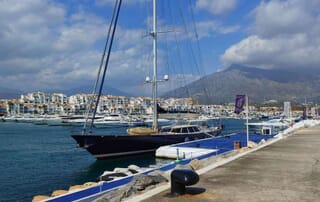 5. Puerto Banús food
And the dining experience is one of the strongest memories people take away from any journey. While in Puerto Banús, you can rest assured of such memories. Excellent, elegant restaurants and bars in the open air with a view of the Mediterranean Sea, famous for its fresh seafood and espetos, i.e. sardine fish skewers, is the showcase of this place. Without visiting them, a visit to Puerto Banús is not complete.
6. Puerto Banús nightlife
While Puerto Banús is certainly not boring during the day, when the sun goes down the resort really comes to life. It encourages you to play until sunrise the next morning. Puerto Banús nightlife revolves around the hippest clubs and cocktail bars, beachfront parties with live DJ music that often host the local and world rich. There are also some great salsa clubs in the area where it's hard to keep your feet off the dance floor.
Most of the nightclubs and bars are located along Calle Ribera, but you can also find them in other locations: in Plaza Antonio Banderas it is worth visiting TIBU, at the end of the marina the Pangea club stands out, and on Nueva Andalucia beach the popular club La Sala Beach and Ocean Club, which invariably attract fun-loving tourists with thicker wallets.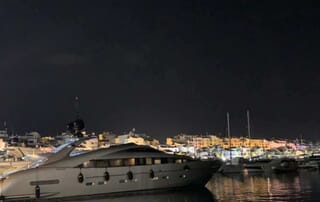 7. Puerto Banús beaches
After an intense evening out, the next day you can go for a leisurely, relaxing session on the beach. There are many amazing beaches in Puerto Banús, including Playa Nueva Andalucia, Playa Puerto Banús, Playa del Rio Verde and Mistral Beach, depending on whether you want to sunbathe, have a drink or splash in the sea.
Playa Nueva Andalucia – a sandy beach stretching for about one kilometer, awarded with the Blue Flag for high quality and environmental standards. Rich vegetation with palm trees at the forefront give it a tropical character.
Playa Rio Verde – stretches approximately 1,500 meters of coastline and is approximately 40 meters wide. It was awarded the Blue Flag for cleanliness and amenities for all visitors.
Puerto Banús Beach – popular with celebrities, families and couples. It offers everything you might need during a day at the beach: sunbeds, umbrellas, showers and toilets. On the beach itself, there are several restaurants and luxury beach bars where you can have a snack and a drink.
Mistral Beach – located just 20 minutes walk from the port. There are some great restaurants nearby. This beach is also the best place for water sports: you can rent jet skis, go water skiing or try your hand at wakeboarding or flyboarding. For lovers of sunbathing, there are hammocks and loungers to rent for the whole day.
For over 50 years, famous people, both local and foreign, have chosen Marbella and Puerto Banús as their vacation or residence places. You already know why.