The real estate market in Spain in 2022. What are the outlook for investors?
27/01/2022
2022-01-27 15:13
Analysts agree: the property market in Spain will continue to grow. Prices in 2022 will be higher, so waiting to buy an apartment or a house for investment may not be the best strategy. It is understandable that Spanish real estate is the target of investors from all over the world. According to some forecasts, their activity may be even greater than in 2021.
---
Last year was successful for the residential sector in Spain. A total of 545,000 transactions were conducted throughout the country, which was the best result since 2008. Average price per sq m. reached the level of EUR 1,877, so it was 5.8% more than at the end of 2020 and almost 6.5% more than in the months preceding the outbreak of the pandemic (source: Brains Real Estate).
Importantly, there was also a solid return on investment: according to statistics published in mid-2021 by the Central Bank of Spain, the expected return on the housing market was + 7% on average. This is undoubtedly an important argument for people who are also concerned with investing in real estate in Spain.
No wonder that the property market in Spain is targeted by investors from many countries. In the new year, foreigners will again constitute a significant part of all buyers (recently around 10%), and according to some experts, this share may even be even higher. Therefore, it is worth briefly outlining the forecasts for 2022. A handful of market analyzes will certainly facilitate the decision to buy real estate for investment. Especially since waiting may not be the best strategy here...
Property market in Spain in 2022 – prices are expected to rise
According to the most frequent forecasts, in 2022 the number of transactions concluded in Spain is expected to drop by 8 – 9% (up to around 500,000, of which 400,000 will relate to the secondary market), but at the same time the price per square meter is to go up by more than 5%.
Supply is projected to decline, and one of the main reasons – apart from poor land availability – will be inflation, which will raise prices of building materials, and thus automatically construction costs. Analysts estimate that in the coming year the cost of building a flat may be 8% higher (some even expect more than 10%). In short, the market continues to gain momentum, although the year will not be easy for the Spanish construction industry. There are currently no indications that property prices in Spain will slow down significantly.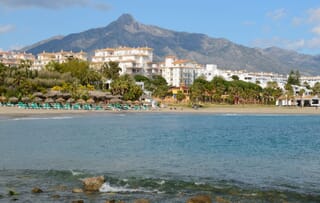 The real estate market in Spain in 2022 – you will still earn from renting
However, what is nice, there are also no reasons to believe that the profitability of investment in apartments for rent will drop in the nearest future. As already mentioned, according to economists analyzes, last year's rate of return was over 7%. In the case of ROI, Spain has been on an uptrend for years and there is no indication that it will slow down. Here is how the profitability of investments for rent has looked like in recent years (quote from statista.com):
2010 - 4.3%,
2011 - 4.3%,
2012 - 4.6%,
2013 - 4.8%,
2014 - 5%,
2015 - 5.3%,
2016 - 5.5%,
2017 - 6.2%,
2018 - 6.2%,
2019 - 6.6%,
2020 - 6.8%.
This trend is very conducive to investing in real estate in Spain.
The pandemic obviously had to affect the Spanish rental market, but after a period of falling rates, they are slowly returning to the level just before the pandemic. The average for the whole country is currently EUR 1,441 / month, and here are the average rental prices in the most and least exposed locations in Spain:
TOP 6:
Catalonia – 2,944 euro / month
Balearic Islands – 2,799 euros
Basque Country – 1,585 euro
Madrid – 1,379 euros
Andalusia – 1,307 euros
Valencia – 1,264 euros
At the opposite extreme there are, among others Extremadura (280 euros), Asturias (505 euros), Castile and Leon (649 euros), Aragón (670) and Murcia (698 euros).
Spain: luxury real estate is a good capital investment
The eyes of investors are naturally set on the most popular regions. Especially since luxury real estate is rather resistant to crises. Apartments and villas are a good capital investment at a time of almost everywhere inflation – let me remind you that in Spain at the end of 2021 it amounted to 6.7%. (this is the highest result in approximately 30 years).
The luxury real estate market is still doing well. I mentioned it recently while describing the last year's performance by the Dream Property team. It was during the pandemic that we conducted the largest transaction in the history of our company: a client booked two villas (built as part of one investment) with a total value of EUR 7 million. You can read more about the complex of 18 villas in the La Quinta area HERE.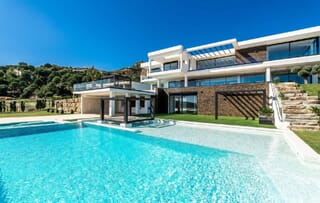 In our offer, however, you will find more premium properties that can be a great capital investment. Here are a few of them:
So the luxury real estate market in Spain is still booming. Millionaires from all over the world often look for investment here or simply choose this country as their second home, because in addition to a wide range of premium real estate, they find here well-prepared infrastructure, a fantastic climate and a rich cultural life.
Investing in real estate in Spain – experts recommend
Foreign investors have always perceived the property market in Spain as having very high economic potential. This has not changed even despite the temporary market freeze due to the pandemic. - The prices of Spanish real estate are very competitive compared to others in Europe, which means that foreigners see our country as an investment opportunity - said Anna Puigdevall, who represents the International Real Estate Federation (FIABCI), quoted by Idealista.com.
As she added, foreigners invest in the Iberian Peninsula not only with a quick return in mind, but also looking for a second home where they could spend long periods of the year. According to FIABCI data, Madrid and Barcelona stand out among the main investment locations, but investors also show traditionally strong interest in the Mediterranean area, including Balearic Islands, Costa del Sol and Costa Blanca.
Spain is also a popular country among foreigners, which is shown in the highly-regarded Expat Insider 2021 ranking. It presents the cities that emigrants think are the best places to live. The Indonesian capital, Kuala Lumpur, won the global ranking, but our Málaga came second. Madrid was also in the top ten.
Importantly, the positive forecasts concern not only private investors, but also foreign companies operating on the office market. According to the analyzes of the international consulting company Knight Frank, in 2022 Spain will be one of the five European countries where investment attractiveness may be the highest. In addition to Spain, analysts also mention Great Britain, Germany, France and the Netherlands.