8 reasons to fall in love with the Costa del Sol
I myself fell in love with this place about 14 years ago. When I got off the plane in Malaga, I felt that Spain and Costa del Sol were my place on earth. Now I am going to play matchmaker and try to introduce you to the Sun Coast. Maybe you will also decide to stay here permanently? Here is a quick guide to the Costa del Sol.
---
When I was getting ready to move to Spain in 2007, I wanted to know everything. The Internet search engine has turned red: "work on the Costa del Sol", "Costa del Sol weather", "Andalusian culture", "Costa del Sol attractions", "Spanish cuisine", "what to see on the Costa del Sol" ... - I spent a lot of time to prepare well for the revolution in my life called "moving to the Iberian Peninsula".
The most popular cities on the Costa del Sol ...
… Is most probably the first thing that interests you. It doesn't matter if you are looking for a property to buy or an interesting place to spend an unforgettable vacation. Here are the cities that are the most popular among tourists and that have been in the top rankings of the best places to live for years:
Malaga - 570 thousand residents, the provincial capital located on the eastern edge of the Costa del Sol;
Marbella - 141 thousand residents, the name "Spanish Saint-Tropez" probably says it all, one of the most luxurious resorts in Europe;
Fuengirola - 75 thousand residents, one of the most popular family resorts;
Torremolinos - 68 thousand inhabitants, one of the main tourist centers with characteristic high-rise hotels, impressive apartment buildings and a 7 km long beach;
Benalmadena - 67 thousand inhabitants, a city divided into two parts: Benalmadena Costa (coast) and picturesque Benalmadena Pueblo (town);
Estepona - 67 thousand inhabitants, long and wide beaches, beautiful promenade and a very well-preserved old town;
Nerja - 21 thousand inhabitants, a town ideal for nature lovers, caves, picturesque streets and beaches with crystal clear water;
Mijas Pueblo - 7.5 thousand inhabitants, one of the most recognizable white towns of Andalusia, about 20 minutes drive from the coast;
Sotogrande - 2.5 thousand inhabitants, a luxurious place, this is where the richest Spaniards and celebrities like to spend their holidays.

Costa del Sol attractions ...
... are a very wide offer not only for those who like the beach and the sea. In this picturesque part of southern Spain, the word 'boredom' simply does not exist. And it doesn't matter if you are going there with a group of adults or with children. Here are some examples of places that should be marked on your map with a bright color.
Selected monuments and tourist attractions of the Costa del Sol and the surrounding area:
Malaga - Gibralfaro Castle, Alcazaba Fortress, Roman Theater, Picasso Museum, Picasso's birthplace, Cathedral, Caminito del Rey (near El Chorro in the province of Malaga);
Marbella - the old town, Puerto Banus port, Aventura Amazonia, Salvador Dali sculptures, the 16th-century castle Casa del Corregidor, La Concha mountain, Tablao Flamenco Ana Maria, La Plaza de los Naranjos;
Mijas Pueblo - chocolate factory, Sanctuary of Our Lady, museum of miniatures;
Nerja - caves, El Balcon de Europa viewpoint, Acueducto del Aguila;
Estepona - Selwo Aventura, Orchidarium, ruins of Castillo de San Luis;
Benalmadena - Tivoli World, Sea Life Benalmadena aquarium, Teleferico cable car, Castillo de Colomares, Mariposario de Benalmadena butterflyarium;
Torremolinos - Crocodile Park, Tower of Mills, Palace of Congresses, Church of San Miguel, Botanical Garden of Molino de Inca;
Fuengirola - Sohail Castle, Roman ruins, Sould Park for children, Bioparc Fuengirola.
As you can see, there is a lot to see on the Costa del Sol. And if you like a bit further trips, consider going to Gibraltar, taking the ferry from Tarifa to Tangier, or going whale watching at Whale Watch Tarifa.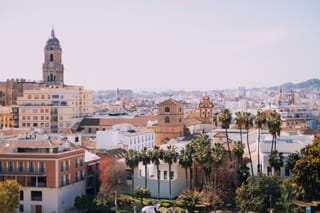 The weather on the Costa del Sol ...
... it is, of course, above all a huge dose of sun. When I tell my clients or friends that we have around 320 sunny days a year here, not everyone believes it. But it is true! The sun is the constant companion of life on the Costa del Sol. For example, in the period from May to September, the average daily number of sunny hours here ranges from 8 to even 11 hours. Therefore, it is worth having sunglasses with you all the time.
The average maximum temperatures recorded in each month also tell a lot: January - 15 ° C, February - 16 ° C, March - 18 ° C, April - 21 ° C, May - 23 ° C, June - 29 ° C, July - 29 ° C, August - 29 ° C, September - 26 ° C, October - 22 ° C, November - 18 ° C, December - 16 ° C.
It is worth paying attention to the specificity of the winter period. Yes, there are windy days and it can rain cats and dogs, but generally this time of year in Spain is mild and full of sunshine. This is the effect of the Mediterranean climate, which is characterized by "warm winters", hot summers and low air humidity. The weather on Costa del Sol is just spoiling its residents.
Beaches on the Coast of the Sun ...
... is a gigantic choice, as it is estimated that there are over 120 of them on 160 km coast (sandy, rocky, gravel). Of course, I will not list all of them, but I will remind you of the places that appear most often in the rankings of the most popular beaches on the Costa del Sol in Spain:
Burriana, Nerja;
Maro, Nerja;
Calahonda, Nerja;
Carvajal, Fuengirola;
Butibamba, Mijas;
Playa de la Rada, Estepona;
Cristo, Estepona;
Torreblanca, Fuengirola;
Nagueles, Marbella;
Cabopino, Marbella;
El Faro, Marbella;
Puerto Banus, Marbella;
Malagueta, Malaga;
Playa de la Carihuela, Torremolinos;
Playa de Torre del Mar, Torre del Mar.
It is also worth knowing what the average water temperature is during the holiday season. May is usually around 17 ° C, June 20 ° C, July 22 ° C, August 23 ° C and September 22 ° C. Therefore, even the worst chilly people should not have any problems entering the sea. Thanks to this, Costa del Sol is a paradise for lovers of various water sports.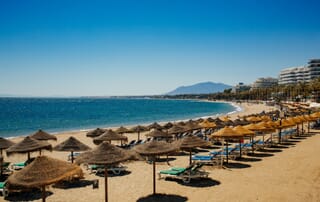 Since we mentioned sports ...
… we should stop here for a moment. While browsing real estate offers on Dream Property website you have certainly noticed that many of the properties are located in the vicinity of golf courses. Costa del Sol is the largest "golf paradise" in Europe, there are up to 70 courses within a radius of 100 km. Some people buy flats or houses here because of their beloved golf.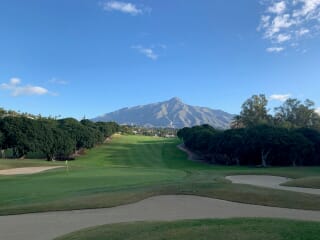 However, Costa del Sol is not only about golf. As in all of Spain, many of the locals are in love with football. If you decide to buy or rent a property on this coast, you will have great football almost at your fingertips. In the nearby city of Seville, the capital of Andalusia, there are two clubs playing in La Liga: Real Betis and Sevilla FC. Who knows, if you're lucky, you might get a ticket for a game against Barcelona or Real Madrid?
And one more interesting fact: being on the Costa del Sol between November and April, you can also do winter sports. It is enough to get in the car and after two hours drive check in to Granada and its Sierra Nevada winter sports resort.
A fairy-tale landscape ...
... is one of the reasons why more and more Poles decide to buy a flat or a house on the Costa del Sol in Spain. When you are here for the first time, the views are captivating. And it's not just about the numerous beaches, famous whitewashed houses or the characteristic buildings of the local cities and towns. The landscape of the Costa del Sol is simply extremely varied.
Here you will find beaches adjacent to rocky shores, beautiful valleys, great farmland, and if you like climbing, you can go to the Sierra Nevada mountains mentioned above. What's more, if you drive to the vicinity of Almeria, you will find the Tabernas desert, where even westerns were filmed in the past. You also have several landscape parks at your disposal.
As you can see, the unique landscape is also a great attraction of the Costa del Sol and its surroundings. Someone once called this part of Spain the land of contradictions and there is a lot of truth to it.
Culture of Andalusia ...
… many of us associate it mainly with bullfighting, flamenco and Picasso's paintings, but it's much, much more. If you like history and come to the Costa del Sol not only for sunbathing, Andalusia will be generous to you.
The region of Andalusia - and therefore also the Coast of the Sun - is a place where Spanish, Arabic and Roman cultures mingled over the centuries. Here, literally at every step, you can see the influence of many civilizations that have swept through these lands, leaving their clear marks on them.
It is also worth knowing which Andalusian sites are on the UNESCO World Heritage List:
Alhambra, Generalife and Albayzin in Granada;
The historic center of Cordoba;
Cathedral, Alcazar and Archives of the Indies in Seville;
Donana National Park in the province of Huelva;
Renaissance buildings of the cities of Baeza and Ubeda;
Antequera Dolmens Site;
Medina Azahara in Cordoba;
Rock art of the Iberian Mediterranean.
Costa del Sol cuisine ...
... proves that the famous coast is not only full of sun, but also of flavors. Specifically coming from the famous Andalusian cuisine. The most popular dish that this region has given all of Spain is of course some tapas, but this is only the tip of the culinary mountain.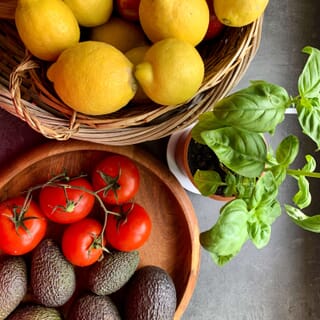 Andalusia has access to both the Mediterranean Sea and the ocean, which is why the cuisine has always been based mainly on seafood. If you are going to this part of Spain, be sure to try popular dishes such as fried sardines, calamari and octopus. The dishes on the Costa del Sol and throughout Andalusia also contain a lot of vegetables. If you like them, you shouldn't forget to try gazpacho and salmorejo, cold soups with local tomatoes as the main ingredient. Olive oil is also an inseparable element of the local cuisine. In fact, Andalusia is the region with the largest number of olive trees in Spain.
Curious? This is just a taste of what awaits you during your stay on the Costa del Sol. I hope this guide will be a good start to your closer acquaintance with Spain's most famous tourist region.